I would like to start by congratulating Dan Towle on his appointment as the next president of the Captive Insurance Companies Association (CICA). The captive industry is at an important crossroads and, in Towle, it will have a strong advocate and clear-minded individual well-equipped to bring the necessary stakeholders together.
We have covered Dan's appointment in depth in this edition, including an exclusive interview with the man himself, a look at his likely in-tray and reaction from across the industry. I have had the pleasure of working closely with Dan in his capacity as director of financial services at the State of Vermont and I am joined by the team at Captive Review in wishing him well in his new role.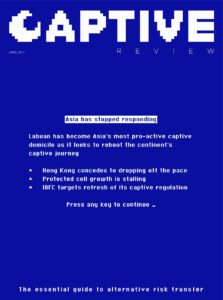 One of the stated aims of CICA is to broaden its reach and appeal further afi eld and to break out of its base in the United States. Our cover feature takes a look at the state of the Asian market and asks why the captive domiciles in the region are struggling to attract larger numbers of new formations.
There is no doubting Labuan's commitment to growing and marketing its captive capabilities, while there is a refreshingly honest appraisal of Hong Kong's (lack of) progress by its own advisory council. PARIMA's Steve Tunstall also provides his take on Asia's captive landscape in our Final Word feature.
I was fortunate to spend time in Singapore in February as we hosted our second Asia Captive Summit. As Steve points out in his interview, much of the time, the captive experts are often found to be preaching to the converted and new means will need to be identified if the industry is going to be able to break into the mainstream of Asian business.
The full round-up of our 2017 UK Captive Services Awards are also found inside this edition and I would like to repeat my congratulations to all those who took home an award on 9 February.