Putting together the Power 50 edition is always a privilege and one that I look forward to every year. There was additional reward this time around as we decided to include a Hall of Fame for the first time.
This idea of a Hall of Fame fi rst came about as I began contemplating what happens to those individuals who have made it to number one in the Power 50. Where can they go in the ranking from there other than down? This is particularly problematic for numerous high-calibre professionals who have reached, or are soon to reach, retirement age.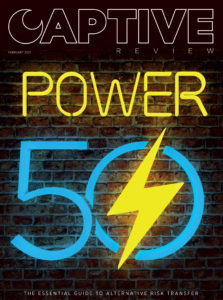 The likes of Alan Fleming, Malcolm Cutts-Watson and Guenter Droese have already, or would have, dropped out of the list completely. It is important that the Power 50 remains an accurate reflection of today's most important players and trends in the industry, but we should not forget the historical contributions made to get us where we are today.
The Hall of Fame also provided us with an opportunity to recognise those early pioneers who set the whole captive movement on its way, most notably the late Fred Reiss in Bermuda and Ed Meehan in Vermont. These are individuals who will rank permanently in Captive Review's Hall of Fame and we look forward to adding to it over time.
Numerous representations have since been made to Captive Review about other worthy individuals, with the Guernsey PCC pioneer Steve Butterworth and another of Vermont's early adopters, Linc Miller, under serious consideration for our next cohort. I cannot emphasise enough that we welcome all suggestions from across the captive landscape.
As a result of a host of regular Power 50 incumbents graduating to the Hall of Fame, we have an especially high number of new entrants in this year's ranked list. There are also, however, some especially high risers.
I will not pick out individual names here, but the signifi cant developments concerning employee benefi ts and captives and the OECD's Base Erosions and Profit Shifting (Beps) project have both had a big impact on the Power 50 and its make-up this year.
The ERC Pioneers list is now in its second year – recognising those key players in the enterprise risk captive space. For those managers and advisors fully engaged with the 831(b) tax election it has been a particularly taxing year. They are not helped by a difficult and uncertain operating environment, but all 20 ERC Pioneers have contributed in their own way to the continued success and growth of the segment.
Richard Cutcher, editor