Employee benefits has likely been discussed, or at least mentioned, in every edition of Captive Review since I began editing the magazine two years ago. And it was already a hot and 'emerging' topic many years prior to that.
The decision to dedicate the cover and five pages inside to it now, however, is justified. For a number of years, consultants, managers and the insurance networks have been spreading the buzzwords of control, diversification and savings with regards to adding employee benefits to a captive portfolio, but actual execution and growth had been slow.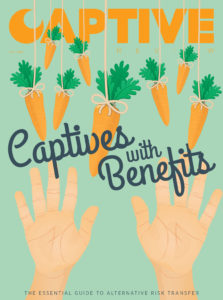 Marsh Captive Solutions' latest annual benchmarking report published at the start of May signaled some considerable movement for the first time – in the space of 12 months its number of captives writing pooled multinational benefits jumped to 17 from seven. As Lorraine Stack explains on page 24, it still only amounts to 1.5% of its client base but the increase is demonstrative.
Marsh's report alone does not verify a global move in this regard, but from speaking to other consultants, captive managers and the fronting networks, it is apparent they are all experiencing the upward curve.
The nature and complexity of writing multinational employee benefi t programmes with captive involvement, particularly in the United States, means that the process and timescale of implementation can be extremely long. Captive Review is aware of one ongoing two-year project that will seek Department of Labor approval to write
US employee benefits through an alien captive. That is something never done before and would be a groundbreaking move, if successful.
Marsh's report and Stack's projection of a healthy future pipeline also coincided with a look back at the state of some of America's early employee benefits pioneers through a research project conducted by Spring Consulting – one of the leading benefits consultants in the US. The overwhelming verdict from 27 of the 32 companies to have successfully navigated ExPro is that it was a worthwhile and financially beneficial task.
The more these positive experiences are shared amongst buyers, coupled with rising health insurance costs and increased pressure on risk and HR departments to make savings, the more corporates of various sizes and across all industries are going to begin considering the captive approach.