The cover for this month's edition went through various iterations, with one version particularly hard to stomach – splattered blood and a stray tooth lay on the boarding pass. In the end, our editorial team decided simply the pass itself, carrying the passenger's name, was enough to communicate the important message of reputation risk. The facts – United, Chicago, David Dao – are likely to remain in frequent flyers' minds for some time.
Incidents such as that on flight UA 3411 take on a whole new life in today's media and online landscape. Such events can be mitigated and avoided by putting in place robust staff training and stress-tested processes, but when the unexpected does take place, how do companies measure the financial impact?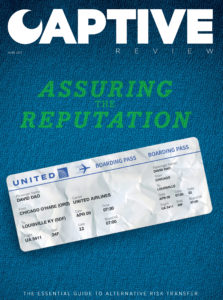 Steel City Re has talked a good game in recent months on providing a solution to companies of varying sizes and types, so I wanted to explore this a little further.
The perspective and solution outlined by Dr Nir Kossovsky is certainly intriguing but the reality remains that very few captives have the appetite to take on this risk and it will be interesting to see how this develops over the next five years.
One certainty is that United Airlines will not be the last company to experience an incident of this kind and the consequences of reputational damage will continue to be felt across industries. Beyond better governance, training and company behaviour, it will be fascinating to watch how and where companies seek solutions that might soften the after-effects.
Bermuda is now more than a year into its Solvency II journey and in one of our News Analysis pieces Jeremy Cox, CEO of the Bermuda Monetary Authority, discusses the measures taken since equivalence with the European directive was gained.
It is telling that Guernsey and the Isle of Man are considering replicating Bermuda's approach to Solvency II equivalence. Bermuda achieved what even European Union members could not – putting its commercial (re)insurance sector under the Solvency II regime, while keeping its captives separate.
Only time will tell what impact the greater capital and reporting requirements will have on Bermuda's commercial (re)insurers, but it's safe to say its captive clientele is relieved not to have been dragged down the same path as those in Luxembourg, Dublin and Malta.
Richard Cutcher
Editor