The State of Washington's Insurance Commissioner Mike Kreidler has certainly set the cat amongst the pigeons with the cease & desist order served to Cypress Insurance Company, the Arizona-domiciled captive owned by Microsoft.
Understandably there is concern for the potential wider ramifications facing the captive insurance industry in the United States, while there remains the possibility a private settlement between Microsoft and Washington could leave the issue unresolved.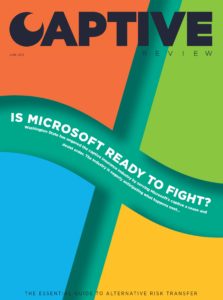 My sources tell me although Microsoft had been in discussions with Commissioner Kreidler's office concerning Cypress for a number of years, the orders came somewhat out of the blue. It appears to have been a change in tactic, for reasons unknown, but it has certainly gained the wider industry's attention. Whose favour that works in, we will have to wait and see.
The information made public to date has split opinion, however. Although no captive expert I've spoken to believes Cypress and Microsoft are bang to rights, the case does further highlight the grey area captives operate in when writing insurance across the States.
Questions concerning direct writing, self-procurement taxes, what constitutes transacting insurance and where that has taken place have produced a legal and compliance minefield for corporates, their captives, regulators and advisors. This is only exacerbated by the differing attitude towards, and standards applied to, captive insurers across the US.
If these questions are not resolved, the environment could descend further into a 'Wild Wild West', where nobody wins and captives continue to get caught in the crossfire.
It may be that the dispute is quietly resolved behind the scenes, but unfortunately for Microsoft, the industry is now watching every development very closely. Whichever way it goes, some degree of clarity, at least from Washington as to their position and future approach to captives insuring its businesses, would be welcomed. As ever, you can rely on Captive Review to keep you up to date on all the developments.
This edition also features the first iteration of our Blockchain Feed, a new five-page section dedicated to updates and developments in blockchain usage and its application in the captive insurance industry.
German start-up Ryskex joined Captive Review, select service providers and some of Europe's most sophisticated captive owners at the European Captive Owners Summit on 17 May to explore and discuss blockchain's potential, so I am delighted to have them feature as our first contributor in the Blockchain Feed.
Lastly, May was a busy month hosting back-to-back Captive Summits in Zurich and Chicago. These were two of our most successful Summits to date, providing an opportunity for an impressive group of captive owners to debate topics from Solvency II and good governance, to writing new lines and reinsurance strategies.
I would like to thank all the delegates, discussion leaders and sponsors who made both events such an enjoyable and valuable experience.