The annual Captive Manager Survey always provides an interesting snapshot, collating trends and opinion from across the biggest captive managers in the world. Assets under management and annual premium written through the captives represented have increased again, while there are a few shifts from 2016.
Captive managers seem hungrier than ever to merge and acquire competitors – perhaps a result of increasing administrative and compliance costs driving a need for economies of scale – while the OECD's Base Erosion and Profit Shifting (Beps) project has risen up the list of concerns. Our extensive survey starts on page 23 and I hope you find it an insightful piece of research and analysis.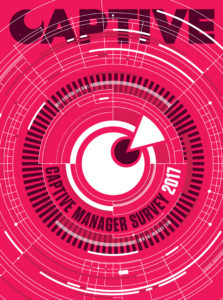 In October, Marsh Captive Solutions announced it had appointed Ellen Charnley as its new president. Charnley is well versed in captives, having worked in the sector for more than 20 years and should be well prepared to lead the biggest captive manager in the world. Previously, Marsh has chosen someone from outside of the captive practice to take on the lead role, so it will be intriguing to see if an internal promotion, with bags of captive experience, takes a different approach to predecessors Nick Durant and Chris Lay. I am fortunate to speak to Ellen regularly and I wish her well in her new role.
Aon's White Rock Group, which formed the world's first protected cell company in 1997, celebrated its twentieth anniversary in October, so I was pleased to catch up with Dermot Finnerty and Noel McNulty from the cell company specialists. We discussed White Rock's evolution into the eight entities it operates now and what the future may bring.
Lastly, I would like to congratulate the Captive Insurance Companies Association (CICA) on the launch of its Mentorship Programme. The impending talent gap in the captive, and wider, insurance industry is well documented so it is heartening to see an Association take an active step forward in addressing it.
On page 19, CICA president Dan Towle outlined the programme and its aims further, while early mentor sign-ups Courtney Claflin and Carol Frey also share their thoughts.