The emerging technology and sharing economy sectors have been high on my hit list to examine, in relation to captives, for some time. Being a former technology and telecommunications journalist, I take a particular interest in this fast-paced and innovative industry.
So when Pokémon Go took the world by storm at the start of July, it provided a relevant hook and strong motivation to put my plan into action.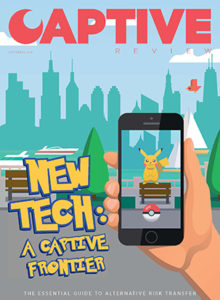 Rapidly growing technology companies have been embracing captives in order to help finance unique and challenging exposures, while US-based lawyer Robert "Skip" Myers has contributed a considered and entertaining article on what liability questions may lie up the road for the forces behind Pokémon Go – Nintendo and Niantic.
This edition's magazine deadline clashed with both the 2016 US Captive Services Awards and the Vermont Captive Insurance Association's (VCIA) annual conference.
The latter, attended by more than 1,000 risk and insurance professionals, was another excellent advert for the industry and I would like to congratulate everyone at VCIA for putting on such a great show.
I was honoured to be invited to present, in true American chat show host style, the popular Hot Topics session with Vermont's Dave Provost. Our special guests were Sandy Bigglestone, Dan Towle and Strategic Risk Solutions' Derick White. I hope that we were able to provide an informative, but fun 75 minutes of captive content to those who attended early on the Thursday morning.
The US Captive Services Awards, in its fifth year and the second time it was held on the eve of the VCIA conference, was another record breaking night for the event. More than 100 guests attended the dinner and 32 awards were presented, ranging from Captive Manager of the Year and Fronting Partner to Collateral Service Provider and Industry Advocate.
I would like to pay special tribute to Arthur Koritzinsky, of Marsh Captive Solutions, who was recognised in the Outstanding Contribution by an Individual category. It was fitting that Tom Jones, a long time friend and a previous winner of the prestigious award, made the announcement at the end of the evening and I think all were in agreement that Art is a deserved recipient.
Congratulations to all the winners and those shortlisted. A full round up of the night, including pictures and judges comments, will be featured in the October edition of Captive Review.