The 2015 edition of Captive Review's Global Programmes Report offers insight and analysis from key industry players on the biggest insurance challenges facing multinational corporations.
Despite the complexity of some of these challenges, contributors to this report emphasise the benefit efficient and well designed global programmes can provide to large businesses.
Perhaps the most recognisable issue facing international insurance programmes is the need to comply with the plethora of regulatory regimes and jurisdictions around the world.  Regulation differs from territory to territory and it is not uncommon for regulators to change their requirements. Keeping up with a world of inconsistent regulation can be difficult and this report provides some guidance on remaining compliant.
Similarly, taxation is an issue that is complicated further for businesses running global insurance programmes by the sheer variety of expectations around the world.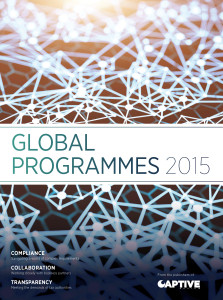 Contributors to this report offer advice in avoiding the worst case scenario of an audit from the tax authorities of different countries.
As well as analysis and guidance with regard to these challenges, this report features an argument that preparation and collaboration with business partners is the most critical factor in overcoming the obstacles facing international insurance programmes.  This position is complemented by details on what this means in practice.
International insurance programmes are constantly evolving, but so are the challenges they face.  It is our hope that this year's edition of Captive Review's Global Programmes Report will help you navigate these challenges and achieve a successful year ahead.