This year marks the 30th anniversary of the passage of Hawaii's captive law.  Hawaii's captive industry has enjoyed steady growth over the last three decades and in particular has some of the most robust locally based dedicated captive resources in the United States, reports Paul Wagner, HCIC President.
Hawaii's captive regulatory process and infrastructure has had a chance to evolve over this time period – we've already been through our "growing pains" – to arrive at an environment that adequately balances the needs of the captive owner and the needs of the regulators.
As a captive owner, we have many onshore and offshore captive domiciles to choose from. Being an East Coast based company, others may wonder why we selected a domicile so far away from our home state. As discussed in depth in our captive case study, 'The Power of Captives', there are many quantitative and qualitative factors leading to our selection of Hawaii.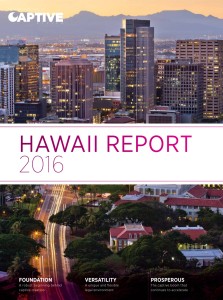 Hawaii offers a first-class captive owner experience. We never feel like just another number in the Hawaii captive landscape. Hawaii captive industry events are welcoming and inclusive – it's that indefinable aloha spirit that you find in abundance here. We've found unparalleled service across the board from all sectors.
As an active member of the Hawaii Captive Insurance Council, we've witnessed firsthand the level of collaboration between the public and private sector. The production of this Captive Review report is just one such example, with the HCIC, State of Hawaii and other participating HCIC members working together to provide you with the most up-to-date information and techniques on owning and operating your Hawaii captive.
As you peruse the information in this report, the expertise demonstrated by the contributing authors is evident. The majority of contributors are locally based in Hawaii. We trust you will see why Hawaii as a captive domicile is "in a class by itself".