As the debate around the pros and cons of Solvency II drags on for another year, the conversation has moved on to more micro features of the three pillars' requirements and their impact on the captive community, both inside and outside the EU.
In the Captive Review Solvency II report 2015, we analyse the most recent developments in the captive industry as it prepares for the upcoming implementation on 1 January 2016.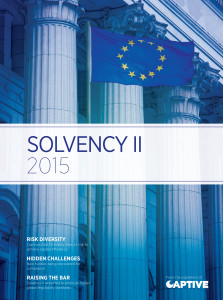 Industry figures have begun to dissect the effect on captives' investment strategies that may see a reduction to the growing trend of loan-backs to the parent company as well as the need to diversify your captive's risk portfolio to optimise capital requirements.
The inclusion of employee benefits programs into the captive is now seen as the most effective method of achieving this, and Captive Review speaks to a variety of leading industry figures who outline the challenges and advantages of pursuing such a strategy.
This report also examines how much specific EU domiciles have achieved in their mission to become 'Solvency II ready' and the issues they have faced along the way.
Many in the captive sector are keen to emphasise that the full effects of this new regulation, and the global trends it may or may not trigger, cannot be fully predicted in advance.
However, the majority of those within the captive or wider insurance industry have at least moved on from seeing Solvency II as simply burdensome and costly to now acknowledging its potential to promote best practice throughout the sector.
For the individual captive owner the long-term advantages of more educated, data-driven risk management is expected to lead to cost savings that far outweigh the initial investment and reporting burdens.
Solvency II aims to encourage insurers to evolve into a more responsible and efficient version of themselves, rather than overhauling the industry as a whole.
However, only time will tell if the captive community will embrace this challenge and the opportunities that come with it.