Bermuda is an established and well respected domicile for both traditional and captive insurance, but despite attaining a high-quality reputation Bermuda's governing bodies have not been complacent.
In the Bermuda Report 2015 Captive Review speaks to the Bermuda Monetary Authority (BMA) as it sets out its stall of ambitious plans for digital reporting and business-friendly regulatory reform.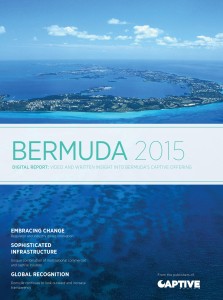 The BMA also confirms and explains its commitment to attaining 'third-country equivalence' for Solvency II. Figures from the Authority demonstrate the Bermuda captive industry is fully embracing the emerging markets of Latin America (30% of formations came from Latam in 2013) and Canada as it continues to be a front-runner captive.
The Report also hears from Bermuda-based service providers on how the island's agile regulation and businesses have been involved in a pioneering new nation-led insurance structure known as the African Risk Capacity (ARC) risk insurance pool.
This project is run by the African Union to provide wide-scale catastrophe insurance for African states against the risk of natural disasters that could severely impact vital food production.
Closer to home the island's banking industry reconfirms its commitment to its captive sector with one institution announcing plans to launch a captive-focused banking platform and another looking at ways to advise a captive's investment arm in a low interest rate environment.
This Report also includes a comprehensive four page guide which breaks down the domicile's regulatory and licensing structure and seeks to provide all the relevant information for any business looking to choose a home for their captive.
Finally, Captive Review puts Bermuda in the wider context of a global insurance market from the regulatory requirements of Solvency II to negotiating the complicated and contradictory elements of EU risk classification from a non-EU domicile, as well as analysing how the current global trend towards consolidation will affect Bermuda's captive industry in the coming year.