Commercial insurance rates may be at all-time lows on many lines of business, but the Vermont captive story marches on with the state seeing growth across the full spectrum of industries, captive types and risks.
The state licensed 24 new captives in 2017 and as of 16 July had issued 12 more so far in 2018 – nine pure captives, one sponsored captive and two risk retention groups (RRGs), taking the total number of active captive insurers in the state to 570 (and total licensed to 1,124).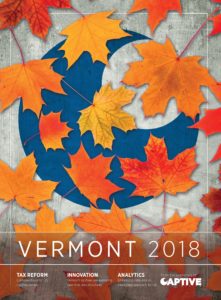 Healthcare – the largest captive business line in Vermont – has accounted for 25% of this year's new formations (two RRGs and one pure captive), though the fact that eight industries were represented in the remaining nine formations speaks of the consistent appeal of both Vermont and captive insurance in general among US organizations.
"Vermont remains one of the few captive domiciles that doesn't specialize in a certain type of captive or industry, and we continue to see interest across the board," says Ian Davis, Vermont's director of financial services, while Deputy Commissioner of Captive Insurance Dave Provost says captive growth is as strong now as it's ever been.
"Good risk managers recognize that captives are useful tools regardless of market conditions, and even though there are now 39 states licensing captives we are still seeing 20 to 30 captives forming each year, just as we have for nearly 40 years," says Provost.
There is no doubt competition continues to hot up in the US onshore market, and with tax reform and several ongoing captive court cases continuing to raise questions for the industry, even a market leader like Vermont
cannot rest on its laurels.
Managers and service providers are universal in their praise of Vermont, particularly the consistency, approachability and flexibility of the regulator. And as these pages attest, the state continues to be at the forefront of the industry at a time of change, whether developing its upcoming Captive Clarity Bill to bring certainty over captive tax treatment in the US, or as a hotbed for innovation, with its captives writing more risks than ever before and embracing analytics to push captive insurance to the next level.
Antony Ireland
Report editor