The Captive Review Power 50 has returned for 2016 and the nominations are now open.  The Power 50 is a ranked list recognising the most influential professionals in the global captive insurance industry.
Criteria for nominations are those individuals who have been the biggest "movers and shakers" in the captive industry over the past 12 months and who will continue to influence the industry's direction and progress in the future.  These are professionals who make considerable effort to influence and lead the industry from both within, and outside, of their every day job role.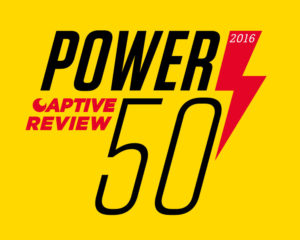 In 2015, there were more than 1,000 votes submitted with David Provost, Vermont's Deputy Commissioner for Captive Insurance at the State of Vermont, named number one. American tax attorney at Sutherland Asbill & Brennan, Bruce Wright, was number two and Guenter Droese, then chairman of the European Captive Insurance and Reinsurance Owners Assoication (ECIROA), was number three.
We have also opened up the Ones to Watch category to voting for the first time this year.  The Captive Review Ones to Watch seeks to recognise those up-and-coming industry players who may not make it into the Power 50 this year, but are expected to play an increasingly influential role over the next 12 months due to changes in market conditions, career progression or growing trends in their area of expertise.
To cast a vote for the 2016 Captive Review Power 50, please click here.  Each voter can nominate three names for the Power 50 and one name for the Ones To Watch category.
The Enterprise Risk Captive Pioneers is also returning after a successful launch in 2015.  The ERC Pioneers list recognises the 20 leading names involved in the United States' smaller captive industry – those captives making the 831(b) tax election.  To nominate a professional to be included in the 2016 ERC Pioneers, please click here.
Voting for the Captive Review Power 50 and ERC Pioneers will close at midnight Eastern Time on Thursday, 8 December.