The 2015 Captive Review Power 50 has now been revealed, showing 14 new entries.
The Power 50 is a ranked list recognising the most influential professionals in the global captive insurance industry.  Returning to the number one spot in 2015 is David Provost (pictured), deputy commissioner for captive insurance in the State of Vermont.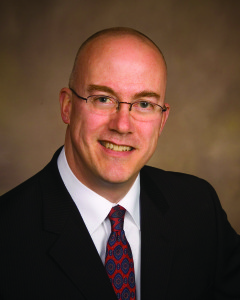 A busy and impressive year for captive tax expert Bruce Wright, partner at Sutherland Asbill & Brennan, sees him climb to second spot having been number four in 2014.
The majority of big movers and new entries, however, have come from the European marketplace with Solvency II implementation on the horizon.  This is best illustrated by the rise of Zurich's Paul Woehrmann into the top ten (from position 47 in 2014) and Aon's Vincent Barrett, who has moved from number 40 to 14.
2016 is shaping up to be a big year for captives in Europe.  The actions of regulators, captive managers and insurance partners are expected to have a big say in whether the insurance vehicles thrive, simply survive or crash within the European Union.
It is important to note that for the first time in 2015 Captive Review has produced a separate list specifically for those service providers, associations and regulators that concentrate on the United States' smaller captive space – those entities making the 831(b) tax election.
This list of 20 names – the Enterprise Risk Captive (ERC) Pioneers – will be released on Thursday.
The full run down of the 2015 Captive Review Power 50 is below.  Rationale and pictures of all entries will be featured in the February edition of Captive Review, published in mid-January.
2015 Captive Review Power 50
| Position | Name | Job Title | Company / Organization |
| --- | --- | --- | --- |
| 50 | Joel Chansky | Consulting Actuary | Milliman |
| 49 | Paul Wagner | Vice President, Alternative Risk Techniques | AGL Resources |
| 48 | Michael Corbett | Director of the Captive Insurance Section | Tennessee Department of Commerce & Insurance |
| 47 | Fabrice Frere | Managing Director | Aon Global Risk Consulting, Luxembourg |
| 46 | John Prescott | Co-Managing Partner | Johnson Lambert |
| 45 | Ellen Charnley | Global Sales and Marketing Leader | Marsh Captive Solutions |
| 44 | Charles Lavelle | Senior Partner | Bingham Greenebaum Doll |
| 43 | James Bulkowski | Senior Manager | EY |
| 42 | Matt Latham | Head of Captive Programmes | XL Catlin |
| 41 | Mark Cook | Director | Towers Watson |
| 40 | Steve Bauman | Senior Vice President - Head of Captive Services | Zurich North America |
| 39 | Dan Labrie | Chairman | National Risk Retention Association (NRRA) |
| 38 | Jeremy Quick | Director of Banking and Insurance Policy and Supervision Division | Guernsey Financial Services Commission |
| 37 | Julia Graham | Technical Director | Airmic |
| 36 | Anne-Marie Towle | Senior Captive Consultant | Willis Global Captive Practice |
| 35 | Julie Boucher | Practice Leader – Americas | Marsh Captive Solutions |
| 34 | Bob Gagliardi | Director of Captive Management | AIG |
| 33 | John English | Regional Managing Director – EMEA | Aon Captive & Insurance Management |
| 32 | Scott Beckman | Chairman | CICA |
| 31 | Robert Eastham | Managing Director | Kane Bermuda |
| 30 | Lorraine Stack | Growth Leader – EMEA Asia Pacific | Marsh Captive Solutions |
| 29 | Brady Young | President & CEO | Strategic Risk Solutions |
| 28 | Clive Hassett | Director for Multinational Services | ACE European Group |
| 27 | Sean Rider | Managing Director – Consulting & Development | Willis Global Captive Practice |
| 26 | Salil Bhalla | Head of Global Fronting EMEA | AIG |
| 25 | Nancy Gray | Regional Managing Director, Americas | Aon Captive & Insurance Management |
| 24 | Rich Smith | President | Vermont Captive Insurance Association |
| 23 | Tomas Wittbjier | Board Member | CICA |
| 22 | Richard Lightowler | Partner and Head of Insurance | KPMG |
| 21 | Gary Osborne | President | USA Risk Group |
| 20 | Jason Flaxbeard | Senior Managing Director | Beecher Carlson |
| 19 | Dan Towle | Director of Financial Services, Agency of Commerce & Community Development | State of Vermont |
| 18 | Claude Wirion | Director of the Commissariat aux Assurances | Luxembourg |
| 17 | Arthur Koritzinsky | Captive Advisory Leader – Americas | Marsh Captive Solutions |
| 16 | David McManus | President | Artex Risk Solutions |
| 15 | David Gibbons | Managing Director, Captive Insurance Group | PwC |
| 14 | Vincent Barrett | Chief Commercial Officer | Aon Captive & Insurance Management |
| 13 | Dennis Harwick | CEO | CICA |
| 12 | Paul Owens | CEO | Willis Global Captive Practice |
| 11 | Shelby Weldon | Director, Licensing and Authorisation | Bermuda Monetary Authority |
| 10 | Karin Landry | Managing Partner | Spring Consulting |
| 9 | Robert "Skip" Myers | Partner | Manning Morris & Martin |
| 8 | Paul Woehrmann | Head of Captive Services, Global Corporate EMEA/APAC/LATAM | Zurich Insurance Company |
| 7 | Tom Jones | Partner | McDermott Will & Emery |
| 6 | Peter Mullen | CEO | Aon Captive & Insurance Management |
| 5 | Chris Lay | President | Marsh Captive Solutions |
| 4 | Steve Kinion | Director of the Bureau of Captive and Financial Insurance Products | Delaware Insurance Department |
| 3 | Guenter Droese | Chairman | ECIROA |
| 2 | Bruce Wright | Partner | Sutherland Asbill & Brennan |
| 1 | David Provost | Deputy Commissioner for Captive Insurance | Vermont Department of Insurance |